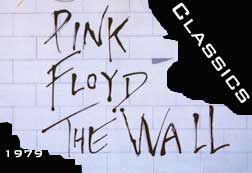 Editor's Note: Every month with the Classic series we ask a few our of writers to tell us exactly why a certain album deserves to be called a classic. This month we look at one of most significant recordings of the past quarter century. While most articles in the series contain contributions from two or more writers, this month one review that was submitted stood out so much that I decided that it should stand alone. This is not to diminish the contributions from the other writers that were scheduled to be part of this article (myself included), but when I read DeadSun's analysis of The Wall, I felt that he made such a strong case for this album's classic status that his review should stand alone. We will revisit this album in a later edition of Classics where the other views will be posted. For now DeadSun gives you the pudding along with the steak of this landmark recording. - Keavin



"Is there anybody… OUT THERE?"



By DeadSun
Rock and Roll comes in all shapes and sizes.
Its ability to bend and branch out, from the simplistic and the raw, to the technical and the refined, is what has enabled Rock to endure into the new millennium. The legacy of Rock is now well into its fifth decade, a musically fashioned buffet which yields up something for every mood, palate, and era.
In November of 1979, Pink Floyd released its twelfth album--- The Wall--- an album which, even in a relatively short lapse of time, was quickly recognized by many for its remarkable musical accomplishment, unrelenting lyrical gloom, and gorgeous thematic complexity. While certainly chock full of Pink Floyd's signature blend of inner space ambience and echo chamber psychedelia, don't fail to distinguish this release with Pink Floyd's earlier efforts. Although its spine of six-string Rock is firmly planted in the formulae that grew out of the late sixties, this album bears no relation to the collective outlook of the decade before it. Even a half-hearted listen of "The Wall" would reveal a narrative wrought with abject self-indulgence and a dark psychological vein that is tinged with both resentment and regret--- or to site a lyrical excerpt from the album, music that feels "cold as a razor blade, tight as a tourniquet".
While The Wall is certainly an album concept that depicts the growing alienation between a musical superstar from his audience, there is clearly something deeper going on in Roger Water's mind--- something just a tad more personal to every one of us.
The Wall furnishes us with a daunting magnum opus, whose framework rests squarely on the relationship that occurs between our inner universe and the external forces that act upon it. This is followed by the intellectual and emotional boundaries which we insinuate between ourselves and the outside world--- a form of insulation which, under extreme conditions, can result in a sense of acute isolation. In the case of the tragic figure cast in The Wall, our protagonist is at his wit's end. Finding himself at utter odds with life, he withdraws into a state of total self-absorption, desperately searching for an escape from his psychological malaise. The primary vehicle he employs to accomplish this is a form of self-analysis and memory recall. The lyrics used in The Wall are--- essentially--- our protagonist taking a painful inventory of his life, an inventory which comes out in the music as a deranged mixture of blithe misanthropy, nihilistic defeatism, demagoguery, and the presumption of both guilt and innocence. Mother, father, son, the education system, wife, the fans, touring, the drugs, and the business--- it all goes up on display before the mind's eye of a rather unorthodox hero, awaiting both verdict and judgment. Heavy stuff.
In short: as far as the phrase "thinking man's Rock" is concerned, The Wall is an eight course feast of pensive brevity.
Moving into the realm of song structure and dynamics, we are confronted with a double album that does not merely feature some of the best music that Pink Floyd ever put to tape--- what we hear is, quite arguably, some of the best damned Rock and Roll we could possibly treat our senses to. The album's tracking and sound also smack of co-producer Bob Ezrin's magic touch, and this drapes the album with an edge to the music that is distinctively harder than what one hears on most of Pink Floyd's earlier efforts--- and the song menu is world class.
With a musical bench featuring a line-up that consists of "Another Brick in the Wall: Part II", "Hey You", "Goodbye Blue Sky", "The Thin Ice", "Mother", "Comfortably Numb", "Run Like Hell", and one of my favorite Rock ballads ever to be played out on a piano, "Nobody Home"--- this album outclasses its peers on more levels than I can mention here. An entire dossier could be written on the subject--- let alone delving into the cinematic interpretation of The Wall, first released on July 14th, 1982, that showcased the talents of director Alan Parker, and the exquisite, brilliant animation sequences of Gerald Scarfe.
For those who seek it out, The Wall will never disappoint. Nor is it likely that it will ever lose either its potency, or its uncanny ability to throw us back into its unforgettably portentous inner world of isolation--- and do so time and time again.
The Wall is a classic of the highest order, superb in its thematic breadth, believable in its gloomy lyrical landscape, and yet still manages to rescue the listener from the depths of despair with its arsenal of first rate Rock and Roll.
DS



Album Info


Pink Floyd - The Wall
Label: Capitol / EMI Records

Tracks:
DISC 1:
In The Flesh?
Thin Ice, The
Another Brick In The Wall Part 1
Happiest Days Of Our Lives, The
Another Brick In The Wall Part 2
Mother
Goodbye Blue Sky
Empty Spaces
Young Lust
One Of My Turns
Don't Leave Me Now
Another Brick In The Wall Part 3
Goodbye Cruel World

DISC 2:
Hey You
Is There Anybody Out There?
Nobody Home
Vera
Bring The Boys Back Home
Comfortably Numb
Show Must Go On, The
In The Flesh
Run Like Hell
Waiting For The Worms
Stop
Trial, The
Outside The Wall
Listen to samples and Purchase this CD online