10/28/2000 - Irvine, Ca
Featuring – X (all original members), The Damned (Dave Vanian, Captain Sensible), Misfits, Supersuckers, Zeke, Zen Guerilla, Throw Rag, Bleeders, Blazing Haley, The Amazing Crowns, Speedbuggy, Hellbound Hayride

It was raining the morning of October 28th but I wasn't ready to throw in the towel regardless of whether the old "rain or shine" policy was in effect or not for the first annual Blood Drive Halloween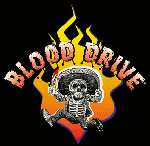 Fest. The sky cleared up and the rain stopped at about 11 o'clock that morning, making it a bright, crisp Southern California day.
By the time we got inside the venue the place was already packed with thousands of music fans of every type imaginable. There were Rockers, Punks, Rockabilly, Normal, and assorted retro types in attendance, all there to see their favorites at this very diverse show. It was killer the way the two European style stages were set up side by side, making the show go off like clockwork with one bands set ending on one stage and the next band taking the stage next to it immediately afterwards. There didn't appear to be more than five minutes between any of the bands sets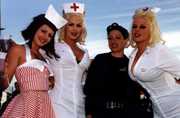 throughout the show.
Our timing couldn't have been better because Zeke was up next, and they're a band I'd wanted to see for a while after being turned onto their CD "Kicked in the Teeth." These guys were a lot of fun to watch and they put on a loud, fast show. The whole band looks like they've got that dirtbag/speedfreak thing going on, which makes them amusing to watch as they play music that caters to the Hot Rod Racing and Devil Worshipping crowd. Check out their CD's "Kicked in the Teeth" and "Dirty Sanchez."
After Zeke finished their set Supersuckers took the second stage and played their brand of straight ahead, high volume Rock and Roll. These guys don't play up to any expectations of what they're supposed to sound like. Looking at Eddie Spaghetti with his trademark Stetson and Grizzly Adams beard, you'd think he was capable of busting out some play me that mountain music Alabama song. That's one of the great things about Supersuckers is that their look don't match their sound and most of the time it leaves those who've never heard them surprised as hell when they hear them break out the classic A chord, and four on the floor classic rock drum beats. Supersuckers sound is nothing more than simple Rock and Roll delivered by a couple of killer guitarists who know that nothing compares to that badass Rock and Roll sound you can only get out of a couple of vintage gold tops and Marshall amps. They're from Seattle, but they sure ain't grunge, and I give them high marks for this show because they were out there in support of a fair trial for the West Memphis Three, and the cover of The James Gang classic "Funk 49" they played kicked ass!
We were in the area in back of the stages about 15 minutes before Supersuckers set ended setting things up for an interview with The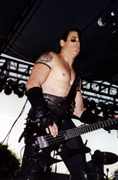 MISFITS. There's some changes going on in The MISFITS camp that can't be confirmed as being temporary or permanent right now. The band is at the liberty to speak, but chooses not to out of respect for everyone involved. The band is a tight knit unit along with their management and crew, and we should show them as much love and respect as they show us fans in the trying times they're going through. Don't forget it for a second; The MISFITS are the band that just won't die! The band took the stage and pounded into their set with as much intensity as any MISFITS show I've ever seen. When Iron Maiden wrote that song "The Trooper" they must have been writing it about Zoli Teglas who's filling in on vocals. At this time Zoli has been recruited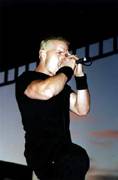 to do some stateside tour dates with the MISFITS that don't interfere with his IGNITE tour schedule, and after that he'll be doing the MISFITS tour in Japan, and the South American tour dates also. Nothing's official as far as Zoli's permanent membership until the MISFITS and Zoli say it's official. Zoli along with drummer Kenny Schalk (from speed-metallers Candiria) did an incredible job filling in the vacant vocal and drum slots, especially after learning all the songs in the span of four days. The band played all the songs the crowd wanted to hear, and Jerry made sure everyone knew that's what The MISFITS were there for. We heard "Skulls", "Hybrid Moments", stuff from "Famous Monsters" and almost all of "Walk Among Us." With the exception of one idiot in the crowd everyone was mesmerized by the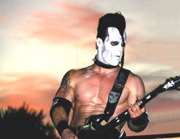 high energy the MISFITS always put out, and of Zoli and how well his own voice suits the MISFITS songs. Some people in the crowd were making the inevitable comparisons and saying that Zoli's voice sounded somewhere between that of Danzig and Graves, whereas I've seen Zoli with his band IGNITE opening for the MISFITS, and concluded that his voice is incredibly powerful and versatile yet all his own. The MISFITS demolished the crowd throughout their hour-long set, and closed with a crushing encore of "Helena." Thanks to Jerry and Doyle, and to MISFITS management and crew for everything. EVIL NEVER DIES!!!
I stood in front of the stage and choked on the fog that along with the church organs signaled to the crowd that it could be no other than The Damned taking the stage. This show marked the return of Original member Captain Sensible to The Damned. We've got Dave Vanian and Captain Sensible from the original line-up, now all we need is Brian James and Rat Scabies to make it a re-union show. Nah, forget those guys. I was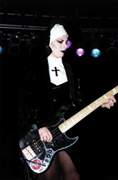 salivating all over myself when I saw Patricia Morrison (ex Sisters of Mercy, Gun Club) walking towards me on the right side of the stage dressed in a patent leather nuns outfit with horns on the veil. Patricia Morrison is playing bass in The Damned and they've never sounded better. Dave Vanian came onstage in his sacrilegious demeanor with horns sprouting out his forehead, and looking like a dead ringer for Lucifer himself (or a pissed off Elvis unable to find a cheeseburger). Captain Sensible was in classic form and hasn't changed from the obnoxious English Punk he's been since the early days. The Damned has been kicking around for 23 years and for those of you who don't know, they put out "Damned Damned Damned" in 1977 before the Pistols put out "Nevermind the Bollocks." How fitting for the Damned with their Goth, Punk,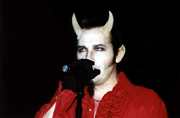 Vampire image, and bloody defilement of Moses in their stage show to be playing the Blood Drive. The Damned is so much better now than when I saw them at Fenders Ballroom in Long Beach ten years ago. The set included all the best songs including "New Rose", "Neat Neat Neat", "Mystery Man", and the encore "Smash it up." The spastic Monty Oxy Moron on keyboards and Pinch on drums complete the bands line-up, and this line-up is as good as any the Damned has ever had. Now we just need a new album from the Damned that goes back to the style of the first album.
If any band had the ability to make sure everybody left the Blood Drive without feeling like they were ripped-off by the high ticket price, X was definitely that band. With all original members it was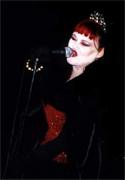 practically guaranteed that X alone would give the people their moneys worth. Hell, with twelve excellent bands on the bill this show could hardly be called a rip-off. Except for John Doe's eyeliner and flaming superhero cape, and Exene's black widow costume and D.J. Bonebrake's goofy blue wig and swimmers goggles this was a back to basics, totally stripped down show that drew it's strength from the virtual library of music the band has created in it's phenomenal career, or at least the first three or four albums recorded with the original line-up. When X started playing shows with the original lineup intact a couple of years ago I thought I'd missed the second coming of X and that I'd blown my chance to see the legendary Los Angeles Punk pioneers play live. After seeing X at the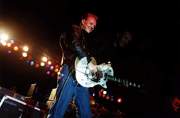 Blood Drive I can now see why they've been cited by critics and their punk brethren for such a long time to be the best Punk band to ever come out of Los Angeles. It was stunning to watch and witness an event that will be musical history in the memories of myself and all the other X fans in attendance. All the same things I loved about X when I first heard John Doe sing "Los Angeles" in that hillbilly baritone, or Exene's tortured wail kicking in on that same song, or D.J.'s crashing and bashing his drumset, or Billy Zoom's classic guitar playing that alternates between technically proficient and "loose as a goose" rockabilly riffs, I love even more after seeing them live. Incredible to witness is an understatement. Members of the opening bands as well as fans, family, and friends, and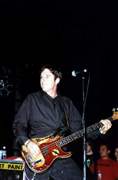 assorted VIP lined the area around the edges of the stage to see and feel the excitement X generates live. The bands close-knit bunch of friends was as rabid an audience as the ticketholders on the other side of the barricades. X ruled on this night as they played all the standards we love so much, including "White Girl", "Motel Room in My Bed", Johnny Hit and Run Pauline", "Los Angeles", and the scorching encore of "Soul Kitchen." Great show! Thanks for the memories!