Anthrax 2005
House of Blues Chicago, April 30, 2005

Live Review and Photos by Adam Bielawski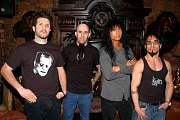 20 years of Anthrax! That is a long time to keep true to heavy metal. 20 years ago, many metal heads were just becoming, while mainstream was already beginning to shut it down. 20 years ago, a radio station in Chicago fooled audiences as becoming something better and then at the strike of midnight, as all metal heads gathered on the dial anticipated something great as marketed for weeks before. As I remember, I believe it was on a New Years Eve all was broadcasted, "The Noise Is Gone." Silence hit the station at 103.5 and easy listening destroyed metal in Chicago. The freakin format changed, we in Chicago had nothing! This event remembered by many, a tragedy of heavy metal in Chicago. We had no more radio station that we claimed as our own, the likes of Judas Priest, Motorhead, Saxon, Iron Maiden, Scorpions and even Van Halen had just disappeared. What just happened? We all were puzzled? Through the early 1980's to mid-1980's the word spread by mouth, by tape and even had to jerry rig antennas to catch a radio that remained loyal. Just a year or two before this event, Iron Maiden took over Chicago Fest, but that was not enough to keep a radio station's format in place for thrash / heavy metal. All through the 1980's, bands such as Anthrax, Motorhead, Metallica, sold out as armies of Denim and Leather youth packed to feel and live what was explained as "NOISE."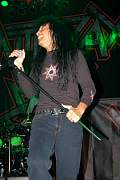 Anthrax was just establishing a scene, a new thrash metal band to reckon with, a new force and idols to follow. Everyone bought the Album called "A Fist Full of Metal." However, few stores carried this disc, and many of us on the south side of Chicago had to travel to stores such as Kroozin Music and Rolling Stones, at times harassed because of our wear, denim jackets with patches of the our favorite bands. Anthrax survived the years, changed some members, made some albums, and now the original line up is back for what is called a 20th Anniversary Reunion with Joey Belladonna, Frank Bello, Charlie Benante, Scott Ian and Dan Spits.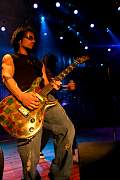 Before hitting the stage on one of two sold out nights at the House of Blues in Chicago on April 30th, Anthrax held a press conference expressing their opposition of the Department of Defense (DoD) use of involuntary use of vaccinations of soldiers. Not too long ago, the bands name, not the band, made negative airwaves for post 9/11 terror scares of anthrax poisonings to government agencies throughout the nation. Terror was in everyone's homes in the USA, as gutless bastards terrorized US citizens. Our country took a stand and we shall win.
Anthrax voiced their stand with legal law firm McGuire-Woods in Chicago of the DoD's involuntary Anthrax Vaccine program, which is allegedly one of the major causes of the Gulf War Syndrome.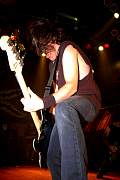 A few hours later in the day, Anthrax hit the stage with Classic Line up at the House of Blues. As an Anthrax fan since the "A Fist Full of Metal" I can say that I am biased towards always giving a good review of an Anthrax show. If anyone says they suck, there full of it, the only way Anthrax (with Joey or John) is if they are not in the house playing. Anthrax is complete energy on stage, never taking anything serious and always giving fans an "Awesome Freakin Time." The lights are up high, the music is loud and precise, the riffs are heavy and the drums pound your heart. As a photographer, I love bands such as Anthrax; they allow me to photograph great shots because they do not put restrictions on the media, in my case a fan as well. What comes at many heavy metal bands is red dark light; I don't understand why you must hide. Anthrax is out there to show you what they got, up front or in the back. No fan is left behind, because this is the legion of Anthrax. During the show, on April 30th, I happen to meet one of the attorneys that were at the press conference earlier in the day, she herself could not express how great the guys were on stage. She expected hard rock music, aggressive nature of fans, NO WAY, not at an Anthrax show! This night she truly becomes a fan of the client.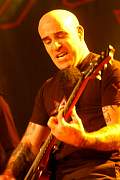 Anthrax to me is beyond what is just music on a CD, the intensity displayed on stage as if it was today or 20 years ago is show and heard in the music they play. Involving every soul in the place, nothing to hide with Anthrax, they are true and earned the rights to be one of the metal gods etched in thrash history. 20 years has not been bad on the band, as I looked at many of faces in the crowd, I know I recognize a few from back in the day in Chicago where you had no parking restrictions, got bashed by security guards at shows, and lived what metal was all about. Bands such as Anthrax, lived a life for rock and roll, they survived for us, in music, actions and freedoms. We all cannot be "Rockstars" on stage, but can feel the adrenaline this night and remember the days. (Should I quote Mustaine on that last line?).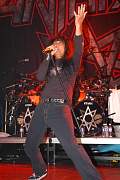 The moment a shadow was recognized, the fans went wild as a silhouette of none other than Dan Spits glowed as the rim light shined to the venue. This crowd went wild. A prelude to the performance was a 20-minute video of what was a brief biography of Anthrax and the impact they made to music. When Joey Belladonna came out that is when everyone knew Anthrax, old Anthrax, was back. Many were happy and they shouted for the beloved Belladonna and many still hoped that John Bush would join the band as well. Many shows I exit early to catch the rush of the crowd, but not for Anthrax, there was no leaving the place till the lights in the house came on. The songs played were classic, such old favorites that I have not heard or even put on the CD player, such as Medusa. I swear I have not heard that song in years. One of my favorites this night was "I AM THE LAW", that gets me going and remembrance of the days of yesterday. 20 years, is a long time, for many all they know is new Anthrax, and Joey only from what plays on a CD. This was a special night to hear "Indians" live one more time with Joey Belladonna. You can say that many relived the old days, and so many more were young and moshed. The pit exists, don't let anyone ever tell you that it does not, cause we are all "Caught in the Mosh."


Get More


Purchase Anthrax's music and listen to samples.
Visit the official site for Anthrax