U2
United Center - Chicago, IL.
May 9, 2005
Live Review by Jeff K

When U2 rolled into Chicago the first weekend in May, news of their shows had already reached the Windy City. It was expected that U2 was going to offer a great show. What their fans got, however, was much more.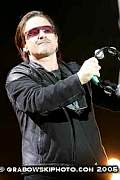 After a 45 minute set by openers Kings of Leon, U2 hit the stage, opening with one of the highlights from their latest album, How To Dismantle An Atomic Bomb, the uplifting "City of Blinding Lights". What was an added treat for these fans was that U2 was also filming the evening's show as part of the footage to be used for their upcoming live DVD release. As they moved through "City…" right into "Vertigo", one could tell that this was going to be a special evening indeed. Four songs into their set, a "Boy" era banner was dropped on all sides of the stage, as they moved right into "The Electric Co.", as well as "An Cat Dubh", a track they hadn't played for over 20 years. As always, Bono began to ad lib at the end of "Electric Co.", singing some of hometown favorite Smashing Pumpkins "Bullet w/ Butterfly Wings". Also, at the end of "An Cat Dubh", they went into "Into The Heart", just like on their classic album, while Bono pulled a little girl on stage with him and walked with her around the catwalk as he sang. A beautiful moment indeed.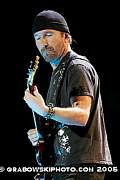 The band continued through their set, weaving in and out between old favorites and newer material, like "Sometimes You Can't Make It", "Miracle Drug", and "Love and Peace or Else". During the latter, the entire band walked out to the front of the catwalk, and Larry Mullen Jr. played a single drum while the band ripped through the song. At the song's end, Bono took over drumming duties, while Larry made his way back to his kit, just in time to start "Sunday Bloody Sunday".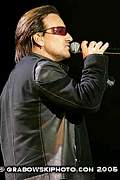 It was noticeable to those in attendance that the fervor that once accompanied the band during many of these early era songs was back once again. It seemed, if only for a time, that the mainstay songs of the band were sung simply because they were songs that were expected, not songs that the band really believed in. While that may or may not have been the case, what was evident this night was the passion in Bono's vocals, as well as Larry, Adam, and Edge's playing, as they tore through fan favorites with all the passion of the Rattle and Hum era, and before. One thing that was missing from "Bullet the Blue Sky" was Bono's signature rant at the end of the song, instead this time replaced by another ad lib, this time of "When Johnny Comes Marching Home Again".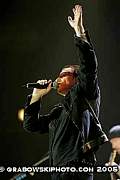 The band tore through some more old familiar songs towards the end of the set, covering all the ground between The Unforgettable Fire, up to Achtung Baby. When finishing the main part of their set with the song "One", Bono urged the crowd to take out their cell phones, or "21st Century lighters", and used it as an opportunity to push the One Campaign, a worthy cause aimed at ending 3rd world poverty. The fruit of his efforts was immediately seen, as fans could text their support, then their names would immediately appear on the screens overhead for all to see. It is obvious that Bono is passionate about this cause, and that it is one near and dear to his heart.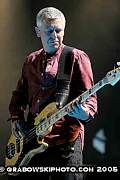 After cheers for more, U2 came back out to cover more "Achtung" ground by playing "The Fly", as well as "Mysterious Ways". They then moved back into newer territory, playing "All Because Of You", and a great acoustic version of "Yahweh". Just when they were getting ready to finish off with "40", a female fan told Bono she knew how to play guitar, and wanted to play for him. Bono, being the spur-of-the-moment entertainer, pulled her onstage, and asked her what she could play. She said she wanted to play "Party Girl", and so Bono had her begin. What transpired was a magical moment for a young lady from Chicago, as well as a rare treat for the rest of the fans, being able to see Bono sing with one of their own. While the song was a bit labored in spots, the sheer uniqueness of the moment overshadowed everything else.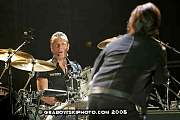 The band finished just as strong as they began, ending the evening with "40", and, just as in the past, having Edge and Adam switch instruments for the final song of the evening. As the song played on, slowly, one at a time, each band member left their instrument, said their goodbyes to the crowd, and headed backstage, leaving only Larry behind his drums. Larry continued to play as the crowd sang "How long…..to sing this song?" Finally, after one last push, Larry finished, waved, and walked offstage.
For all in attendance, it was a night not easily forgotten, nor one that will have to be forgotten due to the band's taping of the evening for a future DVD release. This truly was U2 in their familiar old form, passionate and expressive, all the while interacting with the fans that have loved them for so many years.


More Photos




U2 Links


Preview and Purchase U2 CDs Online
.