Rock Blogs from antiMUSIC's staff.
Iron Maiden, Dio & Motorhead
August 25th, 2003 – Long Beach Arena Long Beach, Ca
By Keavin Wiggins
Before you get into the article, the reader should be advised that it is written not as a traditional review but more as a diary / blog to help kick off our new blog series – thus the name "blog n' roll". So I'll apologize to those who could care less about my personal adventures revolving around this show, it was just the way this piece came out; which always seems to be the case when I write anything Iron Maiden related. For a more straight ahead version of this review click here. With that out of the way, let's get down to business. – Keavin
(full photo galleries are linked at the end of the article)
North American rock fans had a lot to choose from during the summer of 2003. It was one of the busiest concert seasons in recent years with the annual outing of Ozzfest, Metallica's Summer Sanitarium, KISS / Aerosmith, The Misfits Fiend Tour, the return of Lollapalooza and the list goes on. But as the tours were announced there was only one that I knew I absolutely could not miss and that was the one I nicknamed the metal legends tour, since all three bands have been featured in our "Legends" series. Of course, I'm talking about Iron Maiden, Dio and Motorhead. One of the most potent package tours to rock North America in a decade.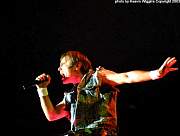 But I almost didn't see it, and it was entirely my fault. When the tour was announced I got on the line with my contact at Iron Maiden and Dio's publicity company to request tickets and a photopass. "No problem," I was told. And it probably wouldn't have been but my contact quit a few weeks before the tour. So I made a mental note to hit up his replacement closer to the show date and remind her of what I was promised.
The summers are insanely busy times here at antiMUSIC. On any typical day I'll put in 10 to 12 hours, so the summer passed by quickly filled with shows, interviews, reviews and taking on the news reporting. Before I knew it, it was the end of August. I kept getting sidetracked and forgot to put a new request in. In the back of my head, I somehow thought that this show was always a couple weeks off. Stupid me.
The reality check came late on Friday afternoon the weekend this tour roared into So Cal. My buddy Happenin' Harry called me up and asked if I was going to one of the shows. "Shit!, I forgot to check with their publicist!" I tried calling but alas they are based on the East Coast and had gone home for the weekend. So I was S.O.L. I decided screw it, I'm gonna buy tickets, and work out the photopass situation somehow. I had to get some photos for this show.
They were playing a couple shows in town, one at Verizon Amphitheater in Irvine and one at Long Beach Arena. It was a nobrainer which show I wanted to see--Long Beach, where I had seen Iron Maiden years before as a little nard for their "World Slavery Tour" and they recorded it for the "Live After Death" album.
So I hoped and prayed that come Monday the tickets weren't sold out and I could somehow get my hands on a photopass. Then on Sunday afternoon, Motorhead's Phil Campbell came to the rescue and my problem was solved.
I was driving somewhere with my aunt(who was in from out of town), when my cell phone rang. It was Happenin' Harry and he was screwing around doing some Indian voice telling some story about Phil Campbell drowning. I knew it was Harry from the caller ID but I listened to his bantering, chuckling to myself. I knew Harry was friends with Phil; Harry got him to play with his jam band "The Wankers" at our 4th Anniversary party. I figured he was just relaying a story Phil had told him. Then Harry got serious and said "I've got someone here that wants to talk to you and tell you a story for antiMUSIC." Phil Campbell came on the line and told me a hilarious story about how his friends had tried to drown him in the pool at the Hyatt in Hollywood. He admitted he couldn't swim and some of his friends were horsing around and kept pushing he head under the water, "I couldn't breathe, I almost drowned!" I figured it was just Harry and Phil screwing around but it was funny nonetheless.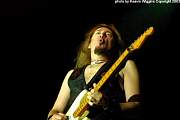 Then they asked me if I was gonna go to the show in Irvine that night. I told em I didn't have tickets and Phil said he'd take care of it. But I had one problem, my aunt visiting from out of town. I couldn't leave her sitting alone at home. I told them that and they said, "Well, bring here along". Bad idea, since she happens to be a born again Christian, I figured the last thing she would be up to was a night of songs with lines like "6-6-6, The Number of the Beast," and "If you're evil or divine, you're the last in line." I told them it wouldn't fly and said I'd love to cover the Long Beach show and Phil said he'd take care of me. Harry said he'd talk to the Iron Maiden and Dio's people at the show that night about setting up photo access for them in Long Beach. So I was all set. –thanks Phil! And of course Harry.
(…I'm getting to the review part… be patient)
I woke up Monday-noon and had a sense of expectancy like I used to have as a little kid on the day I was going to Disneyland. I was gonna see an amazing show with three metal legends on one stage! The minutes ticked by in what seemed like hours. I was supposed to meet up with Harry in the afternoon and hang out a bit backstage before the show. But he was delayed. I was a bit worried, I figured we'd get there and Phil would hook me up then. Harry called a few times, then about an hour before the show he called and said he wasn't gonna make it until about half way through Motorhead's set, so I should head over and my stuff will be at will call. So I hightailed out to Long Beach, about a 20 minute drive, but like a dunce I got lost. Luckily I have a lot of friends in Long Beach and called up Brett from Twelvehourmary. I told him I was lost and was headed for the show, he said he had just been by there and it looked like one big party in the parking lot. That jumped my expectations to the next level. Brett put me on the right path, but by this time it was 5 minutes before the show was scheduled to start and I was still 10 minutes away from the venue.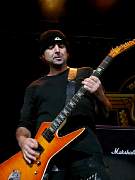 I finally got there, ran to will call, only to wait in line another 10 minutes. I could hear the cheers for Motorhead and was rather anxious to get inside. So finally I had my ticket, backstage pass and the all important photopass. I rushed up to the photopit as the band was finishing their third song and the bouncers said, "sorry, photos only allowed for the first three songs." I exclaimed "s***!" but I remembered luckily that our Chicago photographer Adam had taken some shots a few weeks ago. So I decided, screw it, I'm gonna check out the rest of the show.
I've seen Motorhead a few times but on this night they were in rare form. Lemmy simply captivated the audience and held them in his grasp; fists pounding in the air, it was really something to see and my first thought was his control of the crowd was bit like those old films of Hitler holding sway over a sea of people. Not to compare Lemmy to the evil dictator but he seems to win the crowd over in a similar fashion.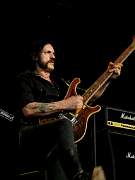 Motorhead doesn't go for theatrical stage sets, they don't need it. They have rock n roll and that's more than enough. Standing on stage backed by a wall of amplifiers, Motorhead gave the crowd what they came for. Phil's incendiary guitars, Lemmy's fist in your face vocals, Mikkey Dee's heart stopping beats. They roared through their set like there was no tomorrow, "Shoot You In The Back", "Metropolis", "Dr. Rock", a killer tribute to the godfathers of punk with "R.A.M.O.N.E.S.," then they launched into "Sacrifice" with an amazing drum solo from Mikkey.
It looked like at that point they were just getting started, which would have been the case with a headlining show. They next busted out "Killed by Death" and then brought the house down when they launched into "Ace of Spades". Hard to top that but Lemmy and Co., closed out the night on a high note with "Overkill".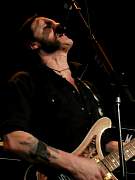 All in all it was an amazing performance and reminded me of something punk icon Texas Terri told me last year. I ran into her outside the Cat Club in Hollywood one night during an antiMUSIC sponsored Happenin Harry Party and we struck up a conversation. Motorhead had just completed a string of So. Cal headlining dates and Terri was telling me she never misses them because "Motorhead are the Godfathers of metal". I asked her, "I thought Ozzy and Sabbath were considered the Godfathers of metal?" Without missing a beat, she responded with her quick wit, "Ozzy may be the Godfather, but Lemmy is GOD!" This show just proved Terri right once again!