Brides of Destruction
Tag Team!
Two cities - Two reviews
By Linda Spielman and samdamonkey
with photos by Michelle Botti
Since our Tag Team series does such a good job giving the readers a couple of different takes on CDs, why not apply to live shows? So, we have a very special live review for you this time around. We have not one, but two different takes on the Brides of Destruction inaugural tour that comes courtesy of long time antiMUSIC scribe Linda Spielman and one of the newest additions to our writing staff, samdamonkey.
Linda starts us off with her review of the May 12th show at Mr. Smalls in Pittsburgh (complete with photos by Michelle Botti)
Brides Of Destruction
Mr. Small's Theater - Pittsburgh, Pa
By Linda Spielman
I consider myself a wild child with a corporate alter ego. By day, I am this professionally dressed joke of my true inner being & personality. So to jump at the chance to see Nikki Sixx, Tracii Guns, Scot Coogan (from Ednaswap) and London LeGrand; hell yeah I was game. Truth be told, I actually was counting down days until the Brides of Destruction show.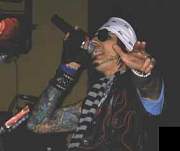 It seems almost sacrileges to see Brides of Destruction in an old church (aka Mr. Small's Theater). However, the atmosphere definitely added to the rock and roll rebellion vibe. I felt as though I was 18 years-old again. When I used to go to Hollywood to visit friends, I would end up on the Sunset Strip on the weekends to check out all the bands who were emulating the Motley Crue's, LA Guns, and other successful bands of the day. I admit now, I learned quickly that showing your ID and tucking $40 underneath it got me into The Whisky, Roxy & Roxbury many years before I should have. 'Tis the life of Rock n Roll.
The lack of air conditioning, smell of stale beer, and more heavy metal shirts than I can even count made the Brides of Destruction show a true rock adventure. Although radio stations in Pittsburgh are not playing the band, it didn't sway the fans coming out in outstanding numbers.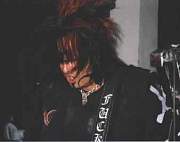 The crowd anxiously awaited as the band took stage around 10pm. Like many, I too was wondering if London could produce live the rock star quality voice I heard on their CD "Here Comes The Brides". As the quartet started off their set with "Shut The F**k Up", it was obvious London was a reincarnate rock god for a new generation. If one song was going to set the stage for the rest of the night and the support of the crowd, that one sure did it. I was amazed from looking at the crowd just how many people knew all the words throughout the evening. My feelings were that many people were just coming out to see Sixx & Guns. However, although these icons are/were members of some of the most successful acts of the 80s, Brides of Destruction was a whole other animal. There are no comparisons past and present except for the lineup of band members.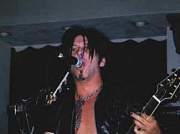 BOD's set included a majority of CD's content. "I Got A Gun", "Natural Born Killers", "Revolution", "2x Dead" were just some of the highlights of the set list. Sixx was all over the stage and constantly playing to the crowd. Guns, looking & sounding better than he ever has was equally energized. As for LeGrand, I think I am his biggest fan after this show. Not only is his vocal ability and intensity astounding, but he truly is a performer. He is everything a lead singer should be and should be the poster child example for anyone taking Rock Star 101. There were times I thought the range of this wiry, jack rabbit-like personality were data tracked. But as I got closer to the stage, I quickly realized he really was singing and hitting all these ranges vocally that left my jaw on the floor.
One thing that BOD has is involvement. Every single member of this band sings backing vocals. And even Scot Coogan, who I originally used to see drum for Ednaswap fronts vocals on a song entitled "Life", which is truly profound lyrically as well as dripping with great rock melodies.
I have seen the guys in BOD perform in their respective bands a lot over the years. But I have never enjoyed one of their shows more than I did as BOD. You can tell from the show these guys are back to enjoying themselves on stage. The music is fresh, the vibe is fresh, the energy is raw and renewed. You can just sense from their set they were having the time of their lives.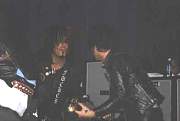 It's always good to go back to familiar things. But when you go back and find a new perspective, a new enjoyment, and a new found energy it's even sweeter. That is what I came away with from the BOD show. It was like going back to my wilder days but with a new appreciation for the roots of the wildness. I was a fan of BOD when I got the CD, I am now a bigger, more appreciative fan of BOD after seeing them live.
Anyone who wants their monies worth at a great rock n roll club show, with true rock icons...Brides of Destruction will not nor do I think ever disappoint.
Now samdamonkey gives us the lowdown on the May13th show in Cleveland.

Brace Yourself
Brides Of Destruction win over Cleveland audience with a Shout At The Devil-May-Care Performance.
By samdamonkey
Q: How does a person upstage not one, but two genuine, literally dyed-in-the-wool rock stars who collectively have close to 20 million albums sold and are veterans of numerous and raucous world tours?
A: Become a hair stylist to the stars, change your name to London LeGrand, hook up with said veterans, produce an incredible 9-song demo that is marketed as an album, perform high-energy shows, proceed on road to reinvent hard rock.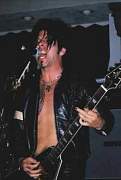 Most of the 500+ people at Cleveland's Odeon were there because of the veritable star power of Nikki Sixx and to a lesser degree Tracii Guns. Sixx hasn't performed in theaters this small since before 1985's "Shout At The Devil" became the touchstone hard rock
album for burn-outs and jocks alike. Gun's namesake band, L.A. Guns, has filled 200 capacity clubs lately, but the band he helped build from the ground up has fallen into a sort of complacency with a revolving door line-up.
So, needless to say, nobody was expecting the sheer old school rock hurricane that is the Brides front man. He is a better singer than Sixx or Guns has ever had (and P. Lewis has pretty good pipes...Vince, not so much) and he's the perfect vessel with which to channel old rock sensibilities to a new audience.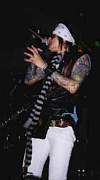 Trouble is, Brides of Destruction are having a problem finding that younger audience. The Odeon's crowd was replete with aging rockers in faded concert shirts from victorious tours gone by and former big-haired hotties sporting a few extra pounds. Nikki Sixx, heroin addiction and all, has aged well. The same can't be said for his core audience.
Following the pre-show crescendo of classical goth-opera that seemed to get louder and louder with each successive choral, LeGrand and company powered out of the gates with their first single off of 'Here Come The Brides.' "Shut The F*ck Up" was well received
and had the close-to-capacity house raising their fists and metal signs well into "2 Times Dead" and the catchy verses of "Natural Born Killers."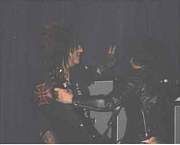 By this point, the London mystique was fully felt by the crowd. Dressed in B.O.D. silver parka, gray striped scarf, L.A.P.D.-style sun glasses, and black bandanna pulled back barely containing black spikey hair reminiscent of a rock n' roll rooster, London gave little to the audience in the way of between-song banter and never...ever...took the shades off. He is capable of heavy-metal growl or melodic singing...all with equal power...the equivalent of a major league baseball player hitting to all fields.
Relinquishing vocal duties to excellent drummer Scot Coogan for the anti-suicidal "Life," London was into it as ever providing backups on the song and letting his band mates get their appropriate and well-deserved spotlight time. Next up was "Revolution," a Gn'R-tinged song that would have Axl back on stage in a minute had he written it.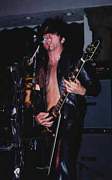 Brides played everything off their debut release except the song Sixx took back from Faith Hill & Tim McGraw, "Only Get So Far." But what came after the first 8 songs was something to behold. Superstar Cover Band Free-For-All.
Jetting into the opening chording of "One More Reason" Guns, LeGrand and company weren't just dusting off some long-forgotten gem. They were selling it. Sixx, in particular, was holding down the low end and supplying the back ups like his life depended on it.
Searing versions of "Rip and Tear" and the obligatory "Never Enough" showed Guns at his absolute pinnacle of performance, fretboards be damned.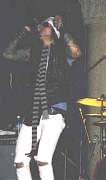 Stagelights dim. Tracii Guns comes front and center and addresses the audience. He confesses that since he was 10-years old and playing guitar, he's been trying to emulate what "this guy" has accomplished, in deference to Nikki Sixx and the Crue. With that, he
launches into "Livewire" from Motley's 'Too Fast For Love' album. Drummer Scott Coogan begins drumstick twirling like there's no tomorrow. London excels during the breakdown portion of the song.
A double-threat of "Looks That Kill" and "Shout At The Devil" closed the show out and gave the oldster audience a morsel of what they were really looking for: an up-close-and-personal Crue Clinic. But with London in the mix, what they got was so much more. Cliff's notes on Hard Rock 101 for '04.
Purchase Brides of Destruction's music and listen to samples.
Visit the official site for Brides of Destruction.
Photos by Michelle Botti