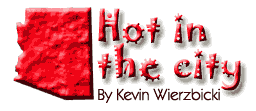 Age of Evil, Triple Double Band, blessthefall and The Word Alive

.
You wouldn't head out to the desert without water, right? That same cautiousness doesn't really need to be applied when you're only heading to the sandy lands via music that's made there but why take a chance? So think of Hot in the City as your sunscreen! We'll keep you from getting burned as we sort through the best of new music from Arizona.

Age of Evil
Get Dead
Self-released
(Hometown: Scottsdale)

It's not often that a band whose members are still in high school draws raves from a respected rocker like ex-Megadeth guitarist Marty Friedman. But Age of Evil has done just that and this six-song debut E.P. gives the world at large a chance to see how their opinion stacks up with Marty's. The band is a powerhouse quartet made up of two sets of brothers (so far no fistfights!) that favors a sound that mashes-up Iron Maiden and Judas Priest with an occasional nod to thrashier stuff like early Megadeth. The song selection here features two original studio tracks and covers of Skid Row's raunchy "Slave to the Grind" and the Judas Priest sizzler "Electric Eye." Two live cuts round out the E.P. and even though you can't see it on an audio recording you can sense that the band really knows how to work the stage. If this sampler is any indication then the future truly will be an Age of Evil. band site

Triple Double Band
Dot My Eighths
Fire City
(Hometown: Tucson)

Like things a bit funky? The Triple Double Band does too and they're very adept at adding the earthy sounds to their music no matter what style they're actually playing in. Singer Jimi Cracovaner has a voice with just enough grit in it to sound serious on tracks like the R.E.M.-ish "Harmony Love Affair" and Dot My Eighths is full of moments where Cracovaner channels great blue-eyed soul men like Graham Parker and Southside Johnny. "Jamsicle" and "Whatcha Do" are both reggae numbers where the inherently funky rhythms draw an additional dose of soul from saxophone flavorings while "Classy but Sleazy" veers mid-song into a Red Hot Chili Peppers-style funk dressed up with a jazzy piano groove. The heavy funk-guns come out on "Bright Light" where the boys add a nice counterpoint to the song with additional vocals from Melissa Weiss. The Triple Double Band likes to do things the old school way; in other words they rely on well-written songs and musicianship instead of studio tricks and that commitment translates to every song on this fun party platter. band site

blessthefall
Witness
Fearless
(Hometown: Phoenix)

After touring behind their successful EP for Warner subsidiary Science Records, blessthefall took a fall of their own and almost imploded. But the core of the band has regrouped with a new label and a new vocalist in former Take the Crown singer Beau Bokan. The resulting music hits a little harder than before; Bokan is in full-out scream mode often and especially on the thrashy "What's Left of Me" and "To Hell and Back." But underneath all the commotion BTF is quite capable of reeling off some pretty good melodic metal too as they do on the hooky "God Wears Gucci." These guys have proven that they're not easily derailed and their relentless tour schedule should keep them near the top of the screamo pile. buy this CD

The Word Alive
Empire
Fearless
(Hometown: Phoenix)

Here's another band that has recently changed vocalists; Tyler Smith, former lead throat for Greeley Estates is now ensconced behind the mic where he alternates between a sweet-leaning melodic singing style and a guttural satanic scream. The band is still working on finding their niche; five of the six songs here sound pretty much alike but that is not to say that they are not interesting. The ornery and urgent "Casanova Rodeo" is Empire's highlight and implies that The Word Alive respects classic rockers like the Scorpions as much as they do post-punk thrashers. buy this CD


.

---
...end