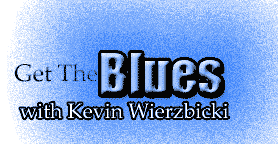 Eric Sardinas and Big Motor- Joe Louis Walker's Blues Conspiracy and Claude Hay

.
Eric Sardinas and Big Motor
Live
MVD

The footage used in this DVD is taken from a television program and presented in such a way that repeat viewings call for use of the fast forward button---the interview snippets between song segments are interesting but you'll need to zap through them if you just want to enjoy the (very good) musical performance. Dressed in a cowboy hat with a showy headband, a flowery "blouse" with huge bell sleeves and matching decorative chaps, Sardinas strikes a figure on stage that recalls both Stevie Ray Vaughan and Jimi Hendrix. Sardinas plays mostly in the Delta blues style, everything on resonator guitars, picking and working his slide to channel greats like Bukka White and Lightnin' Hopkins. This short film only offers seven songs but they all pack a punch, from the countrified sound of "Can't Be Satisfied" to the instrumental showcase of his band "Big Motor" to the psych-blues/Hendrix-style jam of "As the Crow Flies." Resonator guitars don't require amplification if you're playing in a relatively quiet setting but Sardinas runs his through an amp for most of his set except for "8 Goin' South" where he plays his axe into a vocal mike placed at waist-level, bowing the whole time to sing into the same mike. Sardinas is not new to the scene but this film is a very good introduction for those not yet hip to his style.

Joe Louis Walker's Blues Conspiracy
Live on the Legendary Rhythm & Blues Cruise
Stony Plain

Wow, what a sea cruise this must have been! Walker is an old-school guitar slinger who began his career playing with the likes of Magic Sam, Fred McDowell and Lightnin' Hopkins as a teenager and who is now considered to be on a par with stars like Buddy Guy and B.B. King. No wonder he could corral a veritable who's-who of the blues as he rocked the big boat through the Caribbean---Duke Robillard, Tommy Castro, Johnny Winter, Todd Sharpville, Watermelon Slim and Tab Benoit are just a few of the guests on this star-studded show. From the opening chords of the strutting "Slow Down GTO," made all the more bouncy by keys work from session man extraordinaire Mike Finnigan, the record is a non-stop party where Walker only interrupts the music to introduce the guests. About half of the songs come from Walker's recent albums but the set list dips all the way back to 1987's Cold is the Night album for Lowell Fulson's "Ten More Shows to Play." The idea here is to showcase hot guitarists but also pack the dance floor and Walker succeeds on both fronts.

Claude Hay
Deep Fried Satisfied
Ingot Rock

Hay is an Aussie but he sounds like he grew up in the Delta eighty years ago. He also has an interesting sense of humor; opening track "Get Me Some" is presented as a typical blues moan where the singer is intent on obtaining some, uh, loving, but in fact what Hay wants to get some of is…pizza. "How Can You Live With Yourself" is filled with bluesy slide guitar but there's an equal dose of Prince in the mix while "Friend" is a blues funk that sounds like it could have been an outtake from an early Little Feat album. With the exception of occasional backing vocals Hay plays all the instruments here, focusing mostly on his twin-neck guitar.

[an error occurred while processing this directive]

.

---
...end