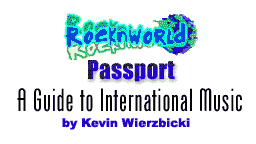 Insingizi- Kailash Kher & Kailasa- Susana Baca

.
Insingizi
Voices of Southern Africa Vol. 2
ARC Music

Fans of the group Ladysmith Black Mambazo will quickly be charmed by this Zimbabwean group that works in a similar style. Both acts perform a cappella but while Ladysmith is a large group Insingizi gets its power from just three voices; group leader Vusa Mkhaya Ndlovu and his cohorts Blessings Nqo Nkomo and Dumisani Ramadu Moyo. The music is called Mbube and sung primarily in the Ndebele dialect so the chances are you won't understand the lyrics. You don't need to though; this is music that you feel. The trio of voices blends beautifully on "Lamlela Ndwandwe" but there's a tangible sense of loss permeating the song and a glance at the disc's liner notes reveal that the song is in fact about war. On the opposite end of the spectrum, "Ngazengayibona" is about the appreciation of a fine female and the song literally floats on air as the men revel in the delightful vision. About half the songs here are interpretations of traditional numbers but the rest are Insingizi originals; all will transport you effortlessly to a warm and welcoming Africa.

Kailash Kher & Kailasa
Yatra (Nomadic Souls)
Cumbancha

Kher is one of the biggest stars in India; his music rules the airwaves in all of south Asia, his voice is heard in countless "Bollywood" soundtracks and he's even a judge on the Indian Idol TV show. Yatra is his first international release and Cumbancha has compiled a set of excellent tracks to introduce Kher to the rest of the world. The album kicks off with "Kaise Main Kahoon" featuring a snake-charmer's melody set to a manic rhythm; it only takes a little bit of imagination to see this one as accompaniment to a speedy and reckless car ride down a crowded Mumbai alley. Much of Yatra hits a similar groove; while the sound is distinctly Indian there are also inflections of reggae, soul, funk and even hints of Summer of Love psychedelia. Kher sometimes waxes plaintively ("Chaandan Mein") but more often he's in the mood to move; at any speed Yatra is a treat that'll have no trouble opening western ears.

Susana Baca
Seis Poemas
Luaka Bop

Baca is a Peruvian artist highly influenced by one of Latin America's most revered poet/singers, the late Chabuca Granda, and half the songs on this six-song E.P. were written by Granda. Baca sings everything in Spanish and while a sense of sadness is palpable in songs about death and war like "El Bosque Armado (La Canoa)" and "Resbalosas" the ultimate emotion evoked by Seis Poemas is one of romance. Baca no doubt learned a lot about romantic phrasing from the Cuban music she listened to as a youth and "Los Lagartos" in particular reflects that influence as Manongo Mujica taps out an excited beat on hand drums; his swirling rhythm metaphorically desperately wants to cage the delicate songbird. She's previously recorded four albums for Luaka Bop but this half hour-long E.P. is a perfect place for new fans to start their love affair with Baca.




.

---
...end