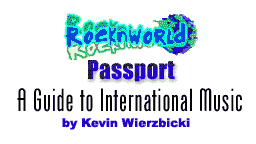 Razia- Ali Farka Toure & Toumani Diabate- The Very Best of Africa and Alan Lomax in Haiti

.
Razia
Zebu Nation
Cumbancha

Singer Razia Said is originally from Madagascar, the giant island that lies off the coast of southeast Africa. She now lives in Harlem but Razia has spent time in Gabon, France, Italy, Bali and Ibiza and thusly her "roots" go a lot deeper than her homeland. For this album Razia returned to Madagascar for a first-hand look at how the country is being deforested at an alarming rate and then came home with the inspiration for Zebu Nation. Most songs are sung in Madagascar's Malagasy dialect so the lyrics won't be understood by most listeners but Razia's vocals, honeyed and never overly emotional, are universally endearing. The songs are set to contemporary arrangements so, Razia's vocals aside, there are as many Continental influences here as there are African. Accordion gives a Parisian flavor to many tunes and also highlights one of Zebu Nation's most African-sounding tunes, "Yoyoyo." "Slash and Burn" is the only song on Zebu Nation that's sung in English and it's a stunner with a psychedelic bent complete with sitar riffing. With its hopeful message of ending environmental and cultural destruction in Madagascar and elsewhere, Razia's Zebu Nation truly is world-music in every sense of the words. - buy it here

Ali Farka Toure & Toumani Diabate
Ali and Toumani
World Circuit/Nonesuch

With its ethereal melody and vaguely Middle Eastern flavoring the instrumental that opens Ali and Toumani sounds like something the Grateful Dead might do during one of their spiritually-searching jams. But "Ruby" was written by Ali Farka Toure, the acclaimed Malian guitarist who's put out a series of stellar albums showcasing his Classically-influenced picking, including his GRAMMY-winning collaboration with Ry Cooder, Talking Timbuktu. Fellow Malian Toumani Diabate accompanies Toure here on kora, a 21-string lute-like instrument indigenous to West Africa and it is mostly Diabate's playing that makes these songs recognizably African. With the exception of a couple of overtly African vocal numbers the introspective instrumentals of Ali and Toumani are better classified as slightly-trippy jams that, with little backing music in place to diffuse the duo's play, are performed by obviously world-class musicians. This is the last recording that Toure and Diabate made; Toure died after a long illness in 2006. - buy it here

Various Artists
The Very Best of Africa
Arc Music

Countries from all over Africa are represented on this compilation with perhaps the most familiar sounds to western ears coming from the acts from southern Africa; the joyous "lion sleeps tonight"-like "Maqhawe 'Nkosi" by Zimbabwe's Ramadu and "Sihamba Nawe," the gruffly-melodious Zulu chanting of South African Johnny Clegg who had some success stateside decades ago with his group Juluka's "Scatterlings of Africa" among them. But many other styles are presented including Nigerian drumming from Sola Akingbola, the drummer for U.K.-based pop act Jamiroquai, Senegalese dance music from the Seckou Keita Quartet and sublime Afropop from George Mutinda who hails from Africa's emerging musical powerhouse, Kenya. Blessings Nqo, Insingizi, Nahini Doumbia and Tribal Beatz are among the other artists contributing to this excellent primer of African music. - buy it here

Alan Lomax in Haiti
Harte

Haiti has been in the news lately for all the wrong reasons but at least the television coverage of the devastating earthquake has given Americans an inkling of what Haitian culture is like. Preserving the sounds of that culture was the goal of the Library of Congress when they sent folklorist Alan Lomax to the island nation back in the 1930s and he did not disappoint them. The voluminous recordings that Lomax brought back have been cherry-picked for this mammoth 10-CD box set where each individual disc focuses on a particular style. The horn-laden disc of meringue music elicits images of sweaty nights of carefree dancing till dawn while the disc spotlighting songs of labor is stocked with Haitian folk music that is, for obvious reason, less buoyant. There's a full offering of children's songs, a Flowers of France disc representing the nation's French heritage, songs associated with the celebration of Mardi gras and perhaps most interestingly, a set of songs of worship that includes music from Vodou (voodoo) rituals. Two booklets that explain the musical styles and chronicle Lomax's excursion are included. - buy it here

.

---
...end