Bolongo Bay Beach Resort

.
He has taken us on rockin Road Trip's around the world and now our travel editor Kevin Wierzbicki checks in his latest in hotel and resort finds for you to check out! We start today with the beautiful Bolongo Bay Beach Resort in the U.S. Virgin Islands.

Destination: Bolongo Bay Beach Resort

There's no denying that the holiday season is a lot of fun but it can also take a toll on your sanity; a Thanksgiving food coma followed by the hustle and bustle of shopping for holiday gifts topped off with maybe a little too much partying on New Year's Eve all adds up to one thing: Give me a break! At the Bolongo Bay Beach Resort they feel your pain, and the beachfront property on St. Thomas in the U.S. Virgin Islands is offering the perfect post-holiday getaway. Bolongo Bay's National Hangover Week savings plan discounts a five-night stay 20% when reservations are made from January 1st-15th 2012. And the discount isn't all. When you book an ocean view room for two people you'll be able to bring two additional adults (18 and over) who can stay in your room without any additional charge. And then about that hangover thing, well there'll be a little hair of the dog on hand. Guests will receive a rum punch welcome drink, find a bottle of Cruzan rum in their room and sail into an evening's fun with a sunset cocktail cruise, all complimentary. The five night package, with taxes and service charges included, is $1733.20, which is less than $100 a day per person if you have four people.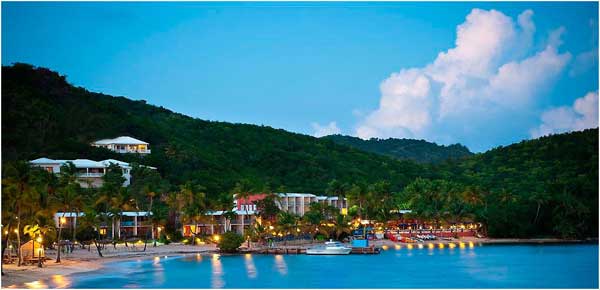 Bolongo Bay Beach Resort has been named one of the "World's 10 Best Beachfront Hotels" by the travel experts at Frommer's and of course they have paddle boards, snorkel gear, kayaks, windsurfers and Hobie Cats for you to play with during the day and live music at Iggie's Beach Bar to keep you entertained at night. Now if that doesn't beat staying home and taking down the holiday decorations I don't know what will.
American citizens do not need a passport to visit the U.S. Virgin Islands. Contact Bolongo Bay Beach Resort at 1-800-524-4746. www.BolongoBay.com
[an error occurred while processing this directive]
[an error occurred while processing this directive]
.

---
...end