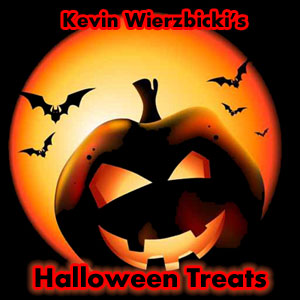 Halloween Treats From The Zombies, Ghost Knife, Epitaph, Savoy Brown and more

.
There's no need for the fun to end when the Halloween party is over. When you get home from the costume party or after the last little ghoul has knocked on your door grab a couple bite-sized Snickers bars, pour a glass of apple cider and relax and enjoy one or more of these recommended audio and literary treats. In the "spirit" of the season we're having a little fun here; all of these items refer to something scary in their title. But chances are you'll find each item more delightful than frightful. Happy Halloween!

CDs

The Zombies
Breathe Out, Breathe In
Red House Records

This English band still gets plenty of airplay on golden oldie radio and they were a pretty big deal in the '60s thanks to hits "Time of the Season," "She's Not There" and "Tell Her No." Nearly forty-five years have passed since the band's heyday and with that in mind it's amazing that the Zombies are making music at all but group mainstays and head creative persons Colin Blunstone and Rod Argent have made a pretty good record here. Don't however expect to hear much that replicates early Zombies psych-pop; "Any Other Way" and "Another Day" approximate the vintage sound but mostly Breathe Out, Breathe In seems to be influenced by Steely Dan, a notion especially reinforced in the arrangement of the title track.

Ghost Knife
Kill Shelter, Yes!
End Sounds

Ghost Knife is a side project of guitarist/vocalist Mike Wiebe who spends the bulk of his time at the helm of the Riverboat Gamblers. Here Wiebe and his mates whip up a punk-edged set of power pop, sounding alternately like a modern band and, with songs like "Frustrated Maths" and "The Very Idea!!!!" like a throwback to early Kinks.

Epitaph
Outside the Law
MIG

This title from German classic rock act Epitaph came out in the mid-'70s and was heard by a lucky few who have long since worn out their vinyl copies. And while wax copies on the short-lived Billingsgate label can still be had for a premium, longtime fans will love to turn their friends on to Epitaph by playing this CD appended with three previously-unreleased cuts from 1976 and 4 from the band's 2000 reunion concert.

Savoy Brown
Voodoo Moon
Ruf Records

Here's a trick amongst our treats---this one isn't out until a week after Halloween so mark your calendar to pick it up on November 8th. Yes, this is the blues-rockin' Savoy Brown from the late '60s, the band that spawned Foghat amongst others. Guitarist and founding Savoy Brown member Kim Simmonds is on hand here to lead the band through a surprisingly strong nine-track set of funky modern blues.

Books

Encyclopedia Gothica
By Liisa Ladouceur
ECW

Ladouceur has compiled a thorough and amusing encyclopedia about all-things-Goth; if you want to know what a "Vampire Dispatching Kit" is you'll find the answer right there on page 274. Also included are lots of entries about bands like the Cure, Bauhaus and Echo & the Bunnymen who are described as a "kinder, gentler early Goth group." Whether you want to read about Nosferatu, Goth Juice or mall Goths you'll find brief and truly informative segments in Encyclopedia Gothica.

An American Demon
By Jack Grisham
ECW

Grisham is the former front man for punk act True Sounds of Liberty (TSOL) and this memoir is loaded with outrageous stories, some of which, like the time Grisham was pretending he was going to saw his "manhood" off and ended up accidentally stabbing someone else instead, are horrifying and hilarious at the same time. Full of blood, booze, dope and debauchery, An American Demon is a startlingly candid and fast-moving read from start to finish.




[an error occurred while processing this directive]

.

---
...end