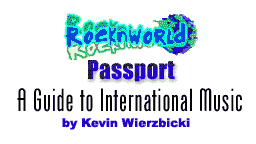 Mariza- Guarco- Soca Gold 2011- Fanfare Ciocarlia vs. Boban & Marko Markovic

.
Mariza
Fado Tradicional
Four Quarters

Fado music is a traditional folk music of Portugal, often referred to as Portuguese blues, and Mariza is the main internationally-known artist working in the genre. With that in mind you can think of Mariza as sort of a Portuguese Joan Baez; she has a husky/sweet voice that recalls Joan's early work and, like Baez, her voice virtually drips emotion. Fans of traditional Mexican music will hear familiar sounds in "Promete, Jura" and if you don't speak Portuguese or understand the inflection of Mariza's singing you can follow along in the liner notes to find out the song is a plea from an infatuated lover who's looking for some reassurance that the feeling is mutual. For the most part you don't need to cheat with the translated lyrics though; the aching vocalization on the stark "Ai, Esta Pena de Mim" paints a vivid enough picture but Mariza makes even songs of loss seem romantic.

Guarco
Fiebre
Guarco.net

Afro-Latin, specifically Afro-Uruguayan Candombe, is at the core of Guarco's compositions. If you are a student of international music perhaps you'll enjoy discerning those influences here; on the other side of the coin it would be a mistake to let ignorance of those styles cause you to let this one slip by. Guarco is Brooklyn-based and Fiebre is swathed in NYC-coolness with songs like "Que Paso" done as dub-heavy electro-reggae (and reprised later in the album in a slower, quieter mode as "Que Paso Dub") while the ostensibly Afro-Latin and folky "Se Termino el Carnaval" becomes, thanks to liberal use of loops and dubs, a delicious mash aimed at big city hipsters. That's the tone throughout and that's who this one is custom-built to satisfy: trendy insiders looking for hot new sounds.

Various Artists
Soca Gold 2011
VP

If you look up the definition of soca music you'll find out that it originated in Trinidad and that it is a modern spinoff of calypso music. Better said, it is a very energetic dance music that sounds a lot like Jamaican dancehall with the addition of calypso instruments like steel drums. Soca is great party music and if you can't enjoy it in the sunny Caribbean then blasting it around the pool is the next best thing. Soca Gold 2011 is exactly what it indicates; the best of the year from stars like Busy Signal, Gyptian, Lil Rick, Iwer George, Skinny Fablous, Lyrikal and Buffy. Includes a bonus DVD with loads of music videos and live footage from this year's Trinidad Carnival.

Fanfare Ciocarlia vs. Boban & Marko Markovic
Balkan Brass Battle
Asphalt Tango

It's an album of big and brassy Gypsy party music as Romanian group Fanfare Ciocarlia throws down with Serbian trumpet legends Boban and Marko Markovic. One listen to "Suita a la Ciobanas," unbelievably fast and manic like a Balkan "Flight of the Bumblebee," and you'll be won over. That's even before you hear their Gypsified version of the "James Bond Theme" or the amalgamation's inventive take on "I Am Your Gummy Bear." Fanfare and the Markovic's play together on each cut except during versions of Duke Ellington's "Caravan" where they take separate runs at the classic.


[an error occurred while processing this directive]

[an error occurred while processing this directive]

.

---
...end