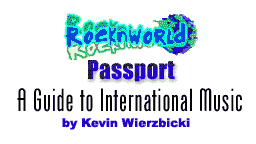 Montreal Special Edition

.
The Arcade Fire album The Suburbs recently took home the most coveted of all GRAMMY awards---Album of the Year---and the hoopla surrounding the award has helped to draw attention to the fact that the band's hometown, the cool city of Montreal, has a very hot music scene. So what else is going on in the tres chic Canadian metropolis? Here are some of the most interesting of recent releases that have critics and fans alike saying "Oui, oui!" to Montreal music.

Young Galaxy
Shapeshifting
Paper Bag Records

Guitarist Stephan Ramsay and keys player Catherine McCandless are the heart of this four-piece and they both sing. When Ramsay takes a turn, like on "The Angels Are Surely Weeping," the band sounds like an ethereal, chill-out version of the Human League. McCandless, on the other hand, takes the songs on which she sings lead straight into Eurythmics territory, albeit a bit less manic than that band.

Braids
Native Speaker
Kanine

These Calgary transplants are now firmly ensconced in the Montreal avant-garde pop scene. The four-piece specializes in dreamy tracks composed of layers of ambient and experimental sounds that turn poppy when keyboard player Katie Lee chimes in with angelic vocals.

The Luyas
Too Beautiful to Work
Dead Oceans

Ever heard of an instrument called a Moodswinger? You can try and pick out the sound of the modified electric zither as played here by Luyas lead singer Jessie Stein but more likely you'll be too busy being mesmerized by Stein's verging-on-twee vocal work on this set of avant-pop. Sarah Neufeld of Arcade Fire guests.

Colin Stetson
New History Warfare Vol. 2: Judges
Constellation

A close associate of Arcade Fire as well as a player in Belle Orchestre and Sway Machinery, Stetson is an avant-garde horn player with a penchant for experimental jazz that makes Sun Ra look downright tame. Already ultra-cool, the hipness factor of this set of instrumentals gets kicked up a notch by several vocal appearances from Laurie Anderson.

Little Scream
The Golden Record
Secretly Canadian

Little Scream is the stage name of singer and multi-instrumentalist Laurel Sprengelmeyer, another friend of Arcade Fire who enlists the band's Sarah Neufeld here as well as Richard Reed Perry, AF's producer. Mostly (surprise!) avant-pop but "The Heron and the Fox" finds Little Scream in basic folksy singer/songwriter mode.

Neuraxis
Asylon
Prosthetic

There's one in every crowd and in this case the band that breaks the Montreal avant-garde mold is Neuraxis. Pounding drums, demon-voiced vocals and stinging guitar riffs are the order of the night for this melodic death metal band with a penchant for tech sounds.




[an error occurred while processing this directive]

.

---
...end