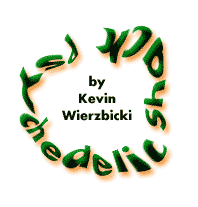 Music to Blow Your Mind!

.
Welcome to the Psychedelic Shack, the paisley palace where the incense is always burning and yes, we do feel like you do. Come on in, we've left the (Day-Glo) light on for you…

The Method
Dissidents & Dancers
See Monkey Do Monkey

The Method plays psychedelic garage rock like it's 1966, sometimes working a little Memphis soul into the sound as they do on "Your Humble Entertainers." Surf guitar lurks in the psychedelia of "Whip Around" and "Consider This Your Warning" is appropriately performed as ominous pyschobilly. "Dissidents & Dancers" could have been a radio hit back in the day, right alongside tracks like "Incense & Peppermints" and "Venus." Nothing here gets too wiggy but sitar-like guitar work on the Animals-esque closer "Habitual" adds an international feel to the already interdimensional. Singer Richie Hayes has a Richard Ashcroft-meets-Marty Balin voice that lends itself perfectly to psych sounds both vintage and modern, making him a good travel companion for right now.


Spindrift
Classic Soundtracks Vol. 1
Xemu

It's not an original concept---Arling and Cameron have made a living off of music for imaginary films---but it's always an interesting adventure when a set of faux soundtracks comes along, especially when they're psychedelicized like these. Spindrift takes classic ideas like Ennio Morricone-style "spaghetti western" themes, dips them in peyote and comes out with twangy mind-benders like "Hellbound (Theme from Dust Up)" and "When I Was Free." Sproinging sitar and a tabla beat make "Space Vixens Theme" an Indian-flavored delight and while many of these tunes are instrumentals, "Theme from Confusion Range" is done with vocals in a style that recalls acid-drenched early Jefferson Airplane.



Morning Teleportation
Expanding Anyway
Glacial Pace

When the blues-influenced, psychedelic garage rock of "Boom Puma" starts playing you have to figure that Morning Teleportation has a little chem lab in the corner of the garage and they've been sipping from the beaker. The freak-out may be the best number on Expanding Anyway, especially if you like your psychedelics strong. A good chunk of the album otherwise finds MT sounding a lot like MM---Modest Mouse---on songs like "Daydream Electric Storm" and "Whole Hearted Drifting Sense of Inertia." The organ fills on "Foreign Planes" give the song a bit of a classic rock undertone while "Coldweather Sunshine" is more delicate psych/folk. Most of the cuts here segue together and Expanding Anyway is definitely meant to be one lengthy trip but it takes repeated plays to reveal the work's layers and subtleties.



[an error occurred while processing this directive]

[an error occurred while processing this directive]

.

---
...end