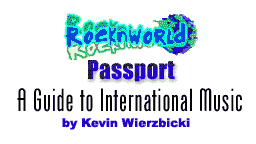 OK! Good Records Special Edition

.
OK! Good Records is home to a handful of great artists based in Europe that are for the most part unknown in the States. Here's a head's-up on half a dozen new releases from OK! Good acts that are definitely worth hearing.

Chromatic Black
(Self-titled)
Home country: Germany

You gotta love a band with members with names like Carl Creepy and Mad Marvellous, especially when the music they make is a stinging brand of streetwise rock that harkens back to groups like the New York Dolls and D Generation. A little bit of theatricality seeps into the mix from time to time, giving songs like "Alright (Cos Nothing is Alright)" overtones that recall horror-era Alice Cooper or perhaps something from Wall of Voodoo. If CBGB's was still around scenesters would absolutely lose their minds over this band.

Hafdis Huld
Synchronised Swimmers
Home country: Iceland

Until you can arrange to see her perform live, check out a couple of Huld's videos on YouTube. Huld has big, mischief-filled eyes and a perpetual smile that make her instantly likable, and that's before she even opens her mouth. Much of this album is straight, airy pop, but the quirky "Iceland factor" ensures that songs like "Kongula" and "Robot Robot" are completely adorable. Just as bright and sparkly as the sun coming up over the fjords.

Schiller
Breathless
Home country: Germany

Electronic artist Christopher von Deylen is Schiller and he might have chosen his stage name because he creates chill-out soundscapes, or as his fans call it, Schill-out music. You'll hear hints of all the great German electro artists in Schiller's music---a bit of Nektar here, a little Tangerine Dream there and a pinch of Kraftwerk in the middle. None of the influences overwhelm Schiller's creativity though and here the overall sound is enhanced by a roster of intriguing female vocalists like Kate Havnevik, Mia Bergstrom and Anggun. Midge Ure (Ultravox) also makes an appearance.

The Windupdeads
Army of Invisible Men
Home country: Sweden

With a sound that's part Jimmy Eat World and part the Gin Blossoms, this quartet has the pop-o-meter pushing into the red, coming up with batches of songs that American TV producers love. Their music has been heard on Gossip Girl and this album's hopeful ballad "Substitute" has just played on One Tree Hill. Remember the name because you're going to be hearing plenty more from these rising stars.

Donots
The Long Way Home
Home country: Germany

These rockers with a punk edge have been tearing it up in Europe for many a year but they're just now seeing their first release in the States with this their eighth album. The band members all take "Donot" as their last name, a la the Ramones, but that's not the kind of punk they play. Not much drone here; instead Donots prefer catchy melodies aimed straight at rock radio with an occasional twist thrown in like the surprising Celtic-sounding "Let it Go."

Paper Aeroplanes
The Day We Ran Into the Sea
Home country: Wales

Singer Sarah Howells lends airy vocals to this set of pop tunes, many of which like "Cliché" pay homage to Celtic roots by virtue of Howells' inflection. Instrumentation plays a part in that sound too, including Howells' use of a kind of zither called a moodswinger, but this music is more aimed at the pop charts than it is at traditionalists. Howells is especially radio-ready on the Sheryl Crow-meets-Faith Hill sounding "Freewheel."

[an error occurred while processing this directive]

.

---
...end