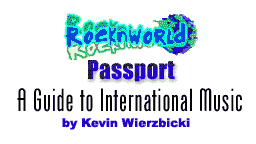 Seun Anikulapo-Kuti & Egypt 80- Hanggai- Monty Alexander- Rez Abbasi Acoustic Quartet

.
Seun Anikulapo-Kuti & Egypt 80
From Africa With Fury: Rise
Knitting Factory

The chances of Seun Kuti being repeatedly arrested and beaten because of his lifestyle and viewpoint, as his late father Fela was, are fairly slim. Also unlike his dad, Seun will probably never run for president of Nigeria. Musically though, Seun is carrying on in his dad's footsteps, playing alto sax and fronting the Afrobeat big band Egypt 80. This is Seun's second release with Egypt 80, the fifteen-person strong outfit once helmed by Fela that specializes in long, often hypnotic jams informed by West African "highlife" music, American jazz and elements of psychedelic music. Politics and protest loom large in Seun's music; "African Soldier" laments the all-too-common African phenomenon of military strongmen appointing themselves president for life, "Rise" talks about how people are starving while petroleum companies and entities like Halliburton run rampant on the continent and "Good Leaf" wonders aloud how the government can condemn marijuana. Seun's lyrics, while potent, are not as obviously filled with anger as Fela's were but Egypt 80 is grooving non-stop here and From Africa With Fury: Rise packs an Afrobeat punch that will not disappoint longtime Fela fans. The promotion of this album should also be helped along by the fact that it was co-produced by Brian Eno who also plays keyboards on the set.

Hanggai
He Who Travels Far
4Q

Hanggai is a Mongolian folk band and a lot of the music on He Who Travels Far is traditional and songs like "Yuan Ding Cap" have the bucolic Chinese flavor you would expect. But these are 21st-century musicians and much of what you'll hear here, aided by guttural throat singing, is undeniably hip, even to the point where ominous-sounding numbers like "Uruumdush" could easily win over fans of groups like Metallica. Ken Stringfellow (the Posies, Big Star) is a fan and guests on piano on a couple tunes. World music fans will appreciate Hanggai but perhaps more importantly this music should be embraced by fans of the psychedelic folk movement.

Monty Alexander
Harlem-Kingston Express: Live at Dizzy's Club Coca-Cola, NYC
Motema

Some fans of pianist Monty Alexander may not realize that the jazzman is a native of Jamaica and here he pays tribute to his homeland by infusing reggae sounds into half of the set while playing it straight (that's the Harlem partů) on the other half. A subtle reggae beat helps the self-penned "Strawberry Hill" swing but the band goes completely dub-happy for album highlight "King Tubby Meets the Rockers Uptown" before playing instrumental versions of Bob Marley's "The Heathen," "Running Away" and "No Woman No Cry."

Rez Abbasi Acoustic Quartet
Natural Selection
Sunnyside

If you like the jazz intervals played by the Grateful Dead throughout their Blues for Allah album you'll enjoy Natural Selection. Abbasi is a modern jazz guitarist and composer of Pakistani descent and some of the interplay here features exotic sounds from the Asian subcontinent, particularly a cover of Nusrat Fateh Ali Khan's "Lament" and surprisingly, thanks solely to the way Abbasi plays guitar on the song, the foursome's sublime take on Bill Withers' "Ain't No Sunshine." Jazz buffs will hear tons of nuance here, even snippets of psychedelia, but Natural Selection is a perfect chill-out for that time when you don't want to listen too hard.


[an error occurred while processing this directive]

[an error occurred while processing this directive]

.

---
...end