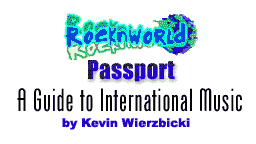 Special "Feelin' Irie" edition: Reggae and Dancehall

.
Steely and Clevie
Digital Revolution
17 North Parade/VP

Longtime fans of reggae music are surely familiar with music bearing the stamp of famous producers like Lee "Scratch" Perry, Coxsone Dodd and Joe Gibbs; the work these greats started is now being carried on by guys like Wycliffe "Steely" Johnson and Cleveland "Clevie" Browne, producers who've worked with a who's who of reggae artists over the past two decades. This 2-CD set contains over forty reggae and dancehall singles including the Lady G and Sugar Minott duet "Whole Heap a Man," Gregory Peck's bouncy ode to big girls "Oversized Mampie," Foxy Brown's reggae-fied version of Tracy Chapman's "Fast Car," "Loving Pauper" from smooth vocalist Freddie McGregor and "It's All Over" from the always manic Buju Banton. Others represented on this impressive compilation include Shabba Ranks, Beenie Man, Assassin, Cobra, Ninjaman, Tiger, Poison Chang and many others. Includes a bonus DVD featuring an interview with Steely and Clevie.

Strictly the Best Vols. 42 and 43
Various Artists
VP

Every year VP Records issues two Strictly the Best compilations, one featuring the best of the year's reggae music with the other focusing on dancehall riddims. Strictly the Best Vol. 42 is the latest set of reggae singles featuring everyone from new hit maker Gyptian ("So Much in Love") to long-running favorites like Marcia Griffiths ("A Beer and a Girl.") Think of this set of songs from the likes of Romain Virgo, Jah Cure, Courtney John and Gappy Ranks as a soundtrack to your Saturday afternoon; kick the evening into gear with the dancehall on Strictly the Best Vol. 43 from Damian "Jr. Gong" Marley & Nas, Busy Signal, Sean Paul, Elephant Man and many others.

Bushman
Bushman Sings the Bush Doctor: A Tribute to Peter Tosh
VP

Bushman does an excellent job with this tribute to Tosh, beginning with an acoustic-and-thunder rendition of "Creation" and moving from there into Peter's two infamous pro-ganja tunes, "Bush Doctor" and "Legalize It." The dozen cuts include "Stepping Razor," "Equal Rights," "Mamma Africa" featuring Buju Banton and a take on "Don't Look Back" with Tarrus Riley singing the part that Mick Jagger sang on the Tosh original.




[an error occurred while processing this directive]

.

---
...end