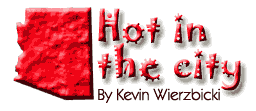 The Love Me Nots- Psychostick- The Necronauts

.
Everybody knows that summers in Arizona are hot, hot, hot, and this year Hot in the City came up with a bright idea to avoid the heat---simply stay inside with a cool beverage or two and listen to music. Then these new releases came along…still hot!

The Love Me Nots
The Demon and the Devotee
Atomic A Go Go
Hometown: Phoenix

Love Me Nots singer Nicole Laurenne is used to looking out into the audience but for "I'm Gonna Be Your Girl" the stiletto heels are clicking on the other side of the stage as Laurenne takes on the persona of a front row groupie with her mind set on bagging Mr. Rock Star. Laurenne sings the song with conviction and there's no doubt that if she actually was this person that she'd be successful. We've championed the Love Me Nots in this column for years; between Laurenne's voice, her Farfisa playing and Michael Johnny Walker's pyrotechnic guitar work there's no other band we'd rather have rip us to shreds, and I use that phrase for a reason. The screeching organ fills, razor sharp guitar riffs and bad girl attitude have carried this band a long ways but there's a noticeable advancement in much of the songwriting on The Demon and the Devotee that takes all of that to another level; songs like "Demons," "She's Nothing Like Me" and "I'm Not Okay" have a sweet-but-ferocious quality that hasn't been heard since the early Blondie albums (who had a tune called "Rip Her to Shreds"…) The Love Me Nots are truly so cool that there's no doubt an element that would like to keep them as their own little cult secret but the band has different ideas and they're putting them fully into motion this time out.

Psychostick
Space Vampires vs Zombie Dinosaurs in 3D
Rock Ridge
Hometown: Phoenix

It's long been said that the desert heat can boil yer brain and if you have any doubt about the veracity of that notion, just take a listen to Space Vampires. Psychostick is, I guess, a comedy-core band; their music is primarily heavy alt-metal but every song lyrically lampoons how the genre tends to overdo self-importance. This goofy stuff may not hold up over the course of a dozen listens but it's not meant to; the juvenile jokes here are an absolute hoot a few times through.

The Necronauts
Gauche et Droite
Football Records
Hometown: Mesa

Not unlike Arizona's beloved Meat Puppets, the Necronauts are tough to categorize. This 2-CD set finds the duo channeling the Pixies and other bands of that ilk on the generous helping of 21 cuts on the Gauche disc (gauche et droite is French for left and right) while the Droite sides are a little wonkier, reminding of everything from British synth bands to the Velvet Underground to surf-y garage rock. Probably the important thing here is not to worry about comparisons; Gauche et Droite goes through as many enjoyable twists and turns as a MGMT album and you won't regret the couple of hours spent finding that out for yourself.


[an error occurred while processing this directive]

[an error occurred while processing this directive]

.

---
...end