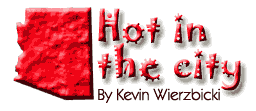 The Meat Puppets and Ronstadt Generations

.
A quick listen to music with an Arizona connection.

The Meat Puppets
Lollipop
Megaforce

The Meat Puppets relocated to Austin, Texas awhile back but in consideration of the two decades the band spent honing their Nirvana-influencing, desert-rocking psych/punk/cowbilly sound in Phoenix many will always think of them as Zonies. The Kirkwood brothers have taken on Shandon Sahm as the new Meat Puppets drummer and the son of the late legendary Texas musician Doug Sahm brings quite a bit to the table on this recording including a big, arena-rocking thunder on the R.E.M.-ish "Orange" and a carefree ska beat on the peppy "Shave It." Singer Curt Kirkwood's voice continues to smoothen like fine scotch in the cask and his writing shows maturation too but the Pup Boys are far from sliding into middle-age mediocrity; "Baby Don't" is a fun and jaunty western-flavored song while "Hour of the Idiot" is classic Meat Puppets psychedelia with layers of swirling guitar, a probing rhythm and a few effects dropped in here and there. The Meat Puppets have survived all kinds of misfortune but they're clearly reveling now in the fact that those days are over; Lollipop is pain-free and, as the title hints at, a sweet joy for the listener. The driving "Vile" and the acoustic whimsy of "The Spider and the Spaceship" are done in familiar Meat Puppet styles but longtime fans will also appreciate the band's newfound clarity.

Ronstadt Generations
Lulo
(Self-released)

Yes, three members of Tucson's Ronstadt Generations are related to Linda Ronstadt. But there is no attempt here to exploit Linda's fame; she does not sing on this album nor is she referred to in any way on the CD's package. Instead, Michael J, Michael G and Petie Ronstadt (along with Josh Hisle) simply go about the business of demonstrating that musical talent runs in the family. Traditional Mexican songs "Lulo Que Lulo" and "A La Orilla de un Palmar" are nice nods to the family's ancestral lineage but about half the album is done in an Americana style, featuring a cover of John Prine's "Paradise" and a handful of family-penned songs where Michael J's weary-on-the-road "Canadian Moon" and plaintive "Wagon Mound" are highlights. A stunning cover of Gillian Welch's "Look at Miss Ohio" is another standout but fans of acoustic roots music with a western bent will enjoy Lulo all the way through.

[an error occurred while processing this directive]

[an error occurred while processing this directive]

.

---
...end