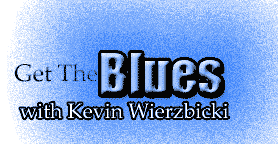 Todd Sharpville and Great Northern Blues Society Bake Sale Volume Five

.
In this latest edition of Get The Blues, Kevin Wierzbicki gives Todd Sharpville's Porchlight and Great Northern Blues Society Bake Sale Volume Five a spin.

Todd Sharpville
Porchlight
MIG/String Commander

Sharpville is a British guitarist from an aristocrat family where he is heir to a Viscountcy and several Baronies. But it's Sharpville's musical background that we're interested in here, a long and storied career that includes playing back-up for the likes of Hubert Sumlin and Ike Turner and having luminaries like Leo Sayer and Mick Taylor in his own band. In short, while not exactly a household name in the States, Sharpville is a beloved blues hero in England. Stateside fans who come across this generous 2-CD set should be pleased with what they hear though; songs like "Old Feeling" and "If Love is a Crime" (with Kim Wilson guesting on harpoon) have a commercial appeal like much of what Robert Cray does while "Used" finds Sharpville screeching on vocals and guitar in a manner that recalls Johnny Winter. Anger doesn't usually make for a good component of the blues (sadness, hopelessness and humor work much better) but Sharpville is clearly miffed about the hawks of war on the fast boogie of "Can't Stand the Crook." To American ears it sounds like the song is a jab at President George W. Bush but since Sharpville is British the line "I just can't stand the crook that chose to lie about his war" may very well be pointed at Tony Blair. Whatever, the song's venom adds to the sting of Sharpville's guitar work which is impressive but not overly indulgent anywhere on Porchlight. Sharpville stumbles a little on the lengthy "Why Does it Rain," a 7-minute side trip into R & B that might've fit in better if it were shorter; for stretching out Sharpville is better served with long, slow, smoky jams like "When the Blues Come Calling" (with Joe Louis Walker on second guitar) and "Misery," again with Wilson on harmonica.

Great Northern Blues Society Bake Sale Volume Five
Various Artists Compilation
(Self released)

Beer, cheese, Summerfest, and for this year at least, the Packers. Yep Wisconsin has some mighty tasty things going on. It's only fitting then that the Wausau-based Great Northern Blues Society, the state's main promoter of low down and dirty blues music, likens their various artists series to a bake sale. So many goodies and all in one place! Where to start? In the case of Bake Sale Vol. 5, just start it spinning and let it rip. The twenty cuts here are well chosen and sequenced nicely, not an easy task considering all the types of blues represented. Highlights include the Molly Hatchet-like blues rock of "Drive" by Meantooth Grin, the swing instrumental "King Swing" from the Nitecaps and a song called "Rolling Pin" that features gruff vocals and mean harmonica from front man Cadillac Pete and a funkified "Born on the Bayou" rhythm from his band the Heat. There's Pat MacDonald's one-man-band boogie beat, evocative Levon Helm-style vocals from Jimmy Voegeli and of course a little risqué raunch in the form of "Crossdresser's Blues" from Queenie & the Blue Cats. If you want to get hip to some talent that's not nationally known, here's your chance. If you're just looking for a party you'll do just fine here too.

Get it here


[an error occurred while processing this directive]

.

---
...end