Broken w/ Engines of Aggression, and Candy Ass
by Goth Brooks
When and Where? The Dragonfly Wednesday October 18th, 2000
I didn't realize how much I missed the excitement that comes from an excursion into the seedy little section of L.A. known as Hollywood. I was anticipating a great night from a band that came highly recommended from fans and friends of Broken alike. I hadn't realized how long it'd been since I threw myself into the psychotic kind of Rock n'Roll environment that only exists in Clubs like The Dragonfly these days. As soon as antiGUY and me got off the 101 freeway and exited onto Santa Monica Blvd, we could smell the stench of Hollywood debauchery, and psychotic energy lingering in the air.
Rock Stars, Porn Stars, and a virtual plethora of interesting, yet unsavory looking characters. The Dragonfly was full of them. I was there to see Broken, and normally don't bother checking out opening acts unless I hear something really special blasting out of the front door while standing outside waiting for the focal point of the night to happen. My habit is to usually kick it out front and do a little schmoozing myself, and on this particular night to check out all the beautiful creatures. It's Hollywood man! What else would you expect?
Candy Ass came blasting right through the walls of the Dragonfly with a sound so catchy that we had to get in the door right away to see who was making all the beautiful racket. Candy Ass is a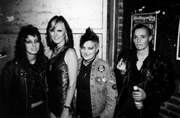 New York band, and I'm not sure if they've permanently transplanted themselves to L.A., but whether they're here permanently or not, I'm gonna try to catch another one of their upcoming shows. Candy Ass is a girl group who play killer punk/pop songs with all the New York vibe intact. Take Galadriel's penchant for all things Blondie-esque, throw in the bands ability to write lighthearted and comical lyrics dealing with stuff like befriending a girl you don't like just to steal her boyfriend, throw in the fact that little Hopey Rock is one of the few female guitar players who doesn't really play guitar like a girl, and that Karen Curious on bass and Becky Wreck on drums are the most complimentary rhythm section this band could possibly have, and there you have it, the amazing Candy Ass! By the way Galadriel, I have 3 sisters who were all aspiring cheerleaders as we were growing up. I remember the name of that move you do at the end of "Popular Girls." It's called a "Hurkey," and it rhymes with Turkey!
I didn't know L.A. Industrial Metallists Engines of Aggression was back together and would be on this bill until I saw bassist Bulldog poised in his ready to rock stance on the left side of the stage. EOA was a signed band five or six years ago that crashed and burned due to all the things that come along with "bigness." They did a few national tours, released an excellent CD called "Speak", kicked Bulldog out of the band due to band infighting and personality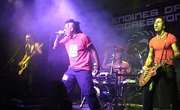 clashes, and it all just went to s*** from there. I'm glad to see that Tripp and Bulldog have buried the hatchet, enlisted new players Michael on guitar, and Gene on drums, and are back to creating the truly original sound that gained them their loyal following in the first place. The band hasn't lost much in the time away from their former incessant live shows. EOA tore into "New Shanghai" with all the charismatic presence of their former selves, and a sound that's heavier than I recall. I'm sure Michael and Gene have something to do with that. Other people and myself used to consider EOA to sound like a wimpier version of Ministry. Seeing and hearing them on this night just proves to me how incredible they are in their ability to evolve musically by improving the sound of the older material, and to blow us away with their killer new stuff. Engines of Aggression are truly the innovators, not the imitators. I'm glad they're back and going for round two.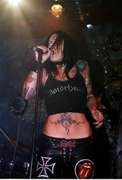 Broken are ten feet tall in my book. In the time I've been writing for antiMUSIC I've had the opportunity to see my all-time favorite bands and my favorite new bands live, and to cover those shows in my live reviews for antiMUSIC. If you've read my articles, CD and live reviews, and feature articles, you can see that I'm a fan of every band I've covered here, without exception. If you can't already guess, AC/DC was the concert event of the year for me. And if you want to know what the club show of the year was for me, I would have to say that far and away this was it. Broken is a straight ahead Rock band that succeeds where bands like Buckcherry fail after people realize there's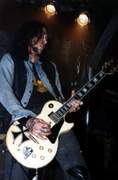 really no substantial weight to the tag "The Saviours of Rock n'Roll" bestowed upon them. Broken on the other hand is without a doubt the real Rock n'Roll deal. The band kicked things off with the opening number, "Tear Down The Walls." Broken was firing on all eight from the beginning to the end of their 10-song set that included songs that successively got better and better than the last. Shelley has the most incredible Rock voice of any woman in Rock n'Roll that I've seen in recent years. Shelley don't f*** around, she comes to Rock. Guitarist Mick Barragan makes it all look so easy, and his style is the same as all the most stellar traditional guitar players. I crept up around the side of the stage and to the side of the stage right in front of Mick, and I didn't see a million effects boxes or pedals at his feet. That's pretty cool that Mick's only effects must be his fingers. What a Rock n'Roll concept! Drummer Kelly Hagerman hits hard, and right on time, and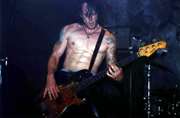 bassist Scott Shriner provides pounding low-end and an energetic persona to Broken's live show. I was even more blown away by Broken when they ended the show with an incredible version of Sabbath's "Hole In The Sky" off of Sabbath's "Sabotage" album. After talking to Mick a little bit on the back patio where he was cooling off after the show, it kind of struck me funny how stupefied I was in his presence. I kind of felt like Chris Farley did on that "Saturday Night Live" sketch of the "Chris Farley Show" where he's interviewing Paul McCartney and he's stuttering, mumbling, asking stupid questions and basically just can't seem to find his voice because he's so in awe of McCartney. That's definitely what must have happened. I was standing in the presence of greatness and I was awestruck!
Real Audio
Candy Ass - Popular Girls
Engines of Aggression - Moto-Psycho
Broken - Blue
Broken - Goin' Down
For more on Broken including a new Real Audio track plus details on how to get a Broken CD check out the Nov. 2000 Artist of the Month Special
Broken Photos by Francis E Howard - Point of View Pictures
Engines of Aggression photo courtesy of the band