Harms Way w/ The Bullys @ Club Mesa
December 2nd, 2000
By Goth Brooks
click on photos for larger image
There I stood with my camera in hand on a Saturday night hoping to catch another glimpse of Amazon Goddess Corey Parks at Club Mesa since the rumors are that this spot and the Tiki bar are her favorite local hangouts. I wasn't so lucky on this night, but my need to snap pictures of Ms. Parks became secondary once I got inside and found that The Bullys were opening the show. I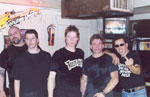 caught the Bullys the previous night at the Roxy in Los Angeles and was equally impressed by their show on this night. The Bullys are a harsh, loud, cocky bunch of hooligans from New York. If their Marky Ramone produced CD's give you any idea of what they might sound like, you've probably got the right idea. Their sound is CBGB's old school New York Punk to the core. All the influences are obvious and all the pieces are in place to carry out their plan of destruction. The Bullys played a half hour of their timeless punk classics to a receptive Club Mesa crowd. The Bullys songs reek of hits one song after another, but their CD's don't come across nearly as hard-hitting and powerful as their live show does. The most memorable Bullys songs are "Sluts", "I'm A Boy", and "Staring Me Down." These are the songs that make people go nuts in the worst way. Too bad radio doesn't play this stuff anymore.
When the time finally came around for HARMS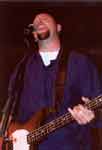 WAY to take the stage, the audience numbers had increased to a sizable level. Sizable enough to where anything could happen, and where I was predicting things were gonna go off. HARMS WAY has a very cool KISS Army thing going with the growing legions of fans that are infesting the bands live shows. HARMS WAY has been around a little less than a year and was formed out of the remains of a few bands that three of the core members have been in and out of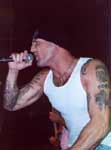 over the past several years. It's plain to see that HARMS WAY is set to achieve things beyond what any of the previous bands that vocalist Paul Bush, bass player Rich Zaydel, and Wonderboy guitarist Landon Jackson have been involved in. This was HARMS WAY's first show with new guitarist Ronnie G. (formerly of Czechoslovakian Black Metal merchants "Sinister Grin") added to the line-up. I saw HARMS WAY with the four-piece line-up on numerous occasions before adding a second guitarist, and while Landon Jackson has the uncanny ability of making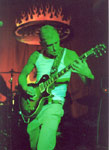 it sound like there are two guitarist playing while in fact it's just him, nothing beats the sound of two killer guitarist who's playing is complimentary to each other and the songs. The band was ready to explode when they took the stage, and explode they did. This was a full force, in your face, Punk Rock attack led by the fierce vocals of frontman Paul Bush, with the whole band displaying the kind of intensity that hasn't been seen or heard since Black Flag in their prime. HARMS WAY has an interesting mix of songs that range from "beggin' for pussy" songs to "I'm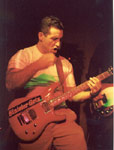 f***ing you back" songs, where even the "beggin' for pussy" songs have sarcastic and mean spirited twists to them. Drummer Jason McCombs sets the driven pace of the bands live show with his all fast, no flash drumming. If Landon Jackson can make it sound like two guitars while there's only one, McCombs can make one bass drum sound like two. It also doesn't hurt that bassist Zaydels' low-end roar also helps drive the bands frantic pace. Zaydels' sound is bright, punchy and killer. HARMS WAY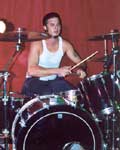 put on a great show and I predict they're on their way to greener, Punk Rock pastures. I pity the people who missed this show by one of the true to form Punk bands to come out of the music scene in a long, long time. My advice to anybody who wants to see the real Punk Rock deal would be to get out there and check this band out.
Listen to Real Audio from Harms Way
Today
Tangle
Get More!
Download the "Bleed Me" MP3, and check out merchandise, photos, bio, and tour dates at the official HARMS WAY home on the web: www.riffraffrecords.com
Everything you ever wanted to know about the Bullys but were afraid to ask can now be found out anonymously at www.thebullys.com
Photos by Goth Brooks